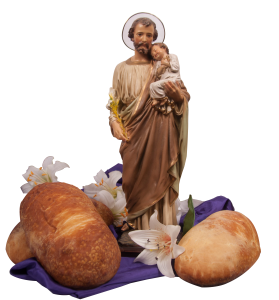 On March 19, the feast of St. Joseph the Faithful Spouse of the Virgin Mary, the children of Casa Hogar and members of the Guild will come together for a special meal to pay tribute to St. Joseph and celebrate Padre Jose Walijewksi's life with inspirational stories and prayer.
We invite you to join us by supporting the Guild and beginning a "new" tradition of St. Joseph's Table in your homes and parishes.  St. Joseph's table is a long-standing tradition in Italy honoring the earthly father of our Lord, Jesus Christ, St. Joseph.
What is St. Joseph's Table 
An ancient Italian tradition, St. Joseph's Table is a ritual meal held on or close to March 19th during the Feast of Saint Joseph, husband of the Blessed Virgin Mary. During this celebration, families and friends come together for hospitality and nurturing in the making of fulfilling promises.
The table includes the altar with an image of Saint Joseph, flowers, candles, fruit and bread along with a simple meal to signify the intercession of Saint Joseph for preventing famine during a period of severe drought.
Providing food for the poor and sharing leftovers from the Table have also become custom. We invite you to join us in carrying out Father Joe's Legacy and sharing this tradition in his honor.
Join one of the events happening in your community or gather with friends and family to host your own! For materials to host an event or more information on the Legacy Guild, please email Noel Furger at nfurger@frjoesguild.org