Clearing the Path to First Communion
La Crosse parishioners made First Communion outfits for children in Bolivia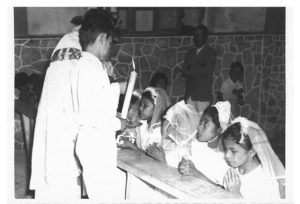 May 3, 1958 was a big event for Father Joe and his parishioners in Bolivia. They were planning the dedication Mass for the church in Santa Cruz, built using the $20,000 Lenten donation from the Catholic Students in the Diocese of La Crosse. Father Joe was also preparing 50 boys and girls for their first Holy Communion.
However, Father Joe soon realized there was something holding these children back from receiving their first Communion … clothes. Father knew that many would fail to appear for their First Communion out of shame and embarrassment if they did not have the proper clothing for the occasion. The families in Bolivia were so poor they couldn't afford to give their children new clothes for such a special event. Father Joe was not going to let that obstacle stand in their way of receiving the Eucharist, so he reached out to his home diocese for help. He asked the people of the Diocese of La Crosse to help him "to bring closer to the altar the people who have been without the altar for so many years."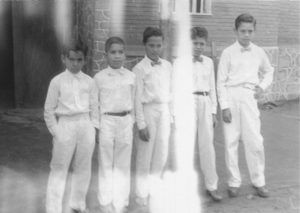 Members of the La Crosse Council of Catholic Women made and shipped nearly 150 sets of First Communion dresses and suits and other articles of clothing, plus rosaries and medals to be used for this historic occasion.