As Lent quickly approaches, many of us find ourselves weighing the options of what we will give up during Lent, a season to fast and sacrifice.  Will it be chocolate, Starbucks or screen time?  With those choices, one might wonder if that is really what Lent is all about.  Are we really sacrificing anything if we are fortunate enough to be able to decide between three, or ten, indulgences?  Perhaps the first thing we should do is go to prayer and ask God what He wants of us during this Lenten season.
Lent is a season of reflection and preparation before the celebration of Easter.  And while it certainly points you in the right direction when you remove something that you enjoy from your life; it is more important to take the 40 days of Lent to replicate the sacrifice of Jesus Christ in your life.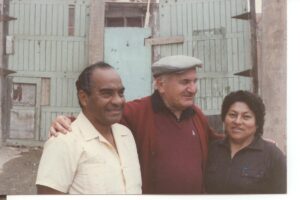 Father Joe Walijewski was an example of a man who worked to replicate Jesus' sacrifice not only during Lent, but every day.  His selfless sacrifice was evident in Santa Cruz (Bolivia), Villa el Salvador (Peru) and at Casa Hogar Juan Pablo II orphanage.  For Father Joe, it was not enough to give up something he fancied, he gave up his personal needs for the sake of a brother, a sister, or a child.  For Father Joe there wasn't a cost he calculated or measured to see when he had done enough, he just kept doing, and doing, and doing.  Father Joe saw Christ crucified in the poor, in the men and women, and most desperately, in the children.  He recognized Him, do you?  Are you willing to do, and do, and do, just as he did?
During this Lent, let's all challenge ourselves to go further into the fasting of Lent.  Prayerfully walk with Christ on the road to Calvary, grow in your relationship with Him, see Him in others and consider what you can do to replicate Jesus Christ.  How can you fast? In what way can you withdraw into the desert for 40 days?
 "Then the righteous will answer him and say, 'Lord, when did we see you hungry and feed you, or thirsty and give you drink? When did we see you a stranger and welcome you, or naked and clothe you? When did we see you ill or in prison, and visit you?' And the king will say to them in reply, 'Amen, I say to you, whatever you did for one of these least brothers of mine, you did for me.'" -Matthew 25:37-40