Student By Day, Baker By Night – All In A Days Work
It's 6:15am and the smell of freshly baked bread wafts outside the kitchen and floats into the chapel. The morning is beginning at Casa Hogar, the 72 children waking up to their daily routines and everyone preparing for Mass, breakfast, and then off to school. Though these days, school uniforms are tucked away in storage and there are some changes around the house with everyone working to stay healthy and safe during Covid-19 quarantine.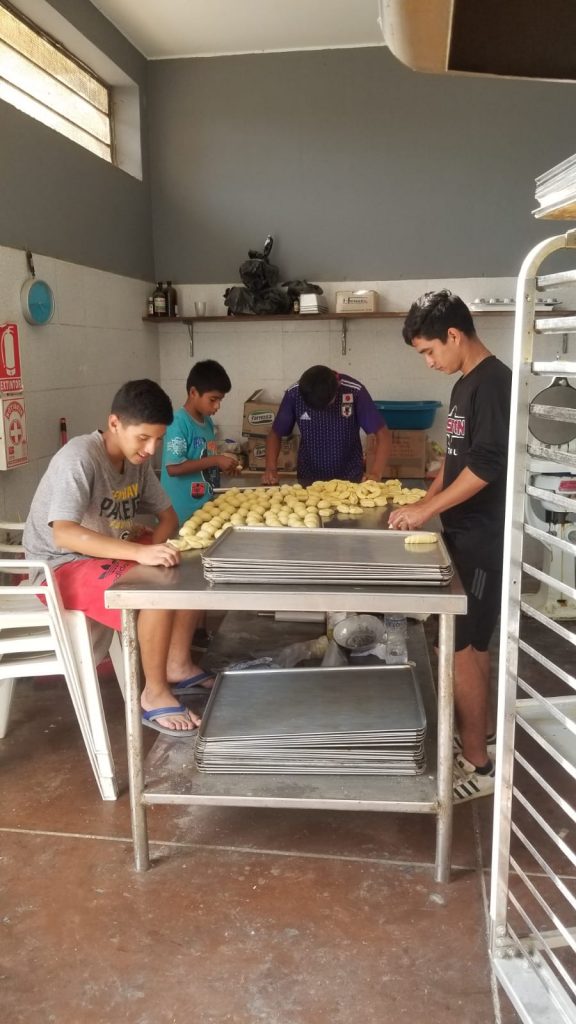 A peak inside the panaderia, Casa Hogar's very own baking workshop funded by generous donors in 2017, reveals some younger familiar faces and a few chuckles. It is the children of Casa Hoga, led by one of their own rather than the baker.
Abraham came to live at Casa Hogar over 9 years ago. He turned 17 in July and is in his last year at Casa. A well-known staple in the Casa Choir and "music scene" he is often seen playing guitar in our videos or can be found practicing when groups come to visit. But what many do not know, is he is also a master baker and these days, it has become essential at Casa.
Several years ago, Abraham started learning how to bake bread with one of our staff members. He along with about 10 other children would work on a rotating schedule to help prepare the dough at night, bake in the morning and deliver over 250 pieces of bread to the families to eat with their milk from Project Milk and the Rural Life Committee of Wisconsin.
Today, with the country on complete lockdown and a more limited access to outside food, Abraham and the children have stepped in to help ensure everyone is well fed in the morning. With the baker absent, Abraham sets the weekly schedule, oversees the production process, tracks inventory and manages distribution to confirm each family receives an accurate count. At the end of each shift, he heads off to his virtual classes and schoolwork. As he prepares to graduate from Casa in December, he certainly did not anticipate his last few months would look like this: "I like being able to demonstrate things that I've learned here at Casa Hogar. It makes me happy to be able to use these skills to give back during this time of emergency."
While we all continue to take precautions during this time of unknown, we are certainly grateful for Abraham's leadership and proud of our kids who are giving back, growing and developing skills in more ways than one for their future!