Going The Distance for Casa Hogar
For Laura Pavela Castillo, Casa Hogar has held a special place in her heart since 1996. The third of six girls, Laura and four of her sisters have all taken impactful trips to Lurin, Peru. Her older sisters, Sarah and Jennifer were on the first Mission Trip led by Msgr. Hirsch followed by Laura and Amy in 1998 and Mary Beth in 2001. Growing up the Pavela girls have fond memories of Father Joe Walijewski at the orphanage and returning to La Crosse, exemplifying the simplicity, cheerfulness, and selflessness.
Now a mother of 7, Laura and her husband Sam live in greater Chicago and recounts her trip to Casa daily. "I am very thankful to my parents who gave me the opportunity to go on a Mission Trip, the impression the orphanage left on my heart has helped me in life as I am now a mother of many children of my own.  Raising a young Catholic family in the U.S. is not easy with the pressures of society.  I look back on my lessons learned from my Mission trip to Casa in 1998 to help me redirect what my focus is in raising my children now, teaching them to give their time in helping others brings true happiness."
For the last 8 years the Castillo's have sponsored Sara, a 13-year-old girl who lives at Casa Hogar. The children have written countless letters, exchanged holiday and birthday greetings and hold Sara in their evening prayers every night. This summer, Laura will travel back to Peru for the first time in over 20 years. This time bringing her husband and their three oldest children to meet Sara in person and experience what it means to serve at Casa Hogar, especially for her oldest daughter Lucia who shares some of the same family responsibilities as Sara.
This past October, Laura and her children experienced a piece of Casa Hogar in their hometown while providing support of a different kind. Director of Development, Sarah Sceery was running Chicago Marathon and it was the Casa Hogar Community that brought her to the finish line.
Up for the challenge but not ready to do it alone, during the five-month international training plan Sarah recruited children and Maestros at Casa as training partners. Instilling healthy habits of exercise and wellness, Sarah has taken the athletic abilities to new lengths at Casa. She has brought out the confidence of physical ability (and healthy stress reprieve!) in her running buddies.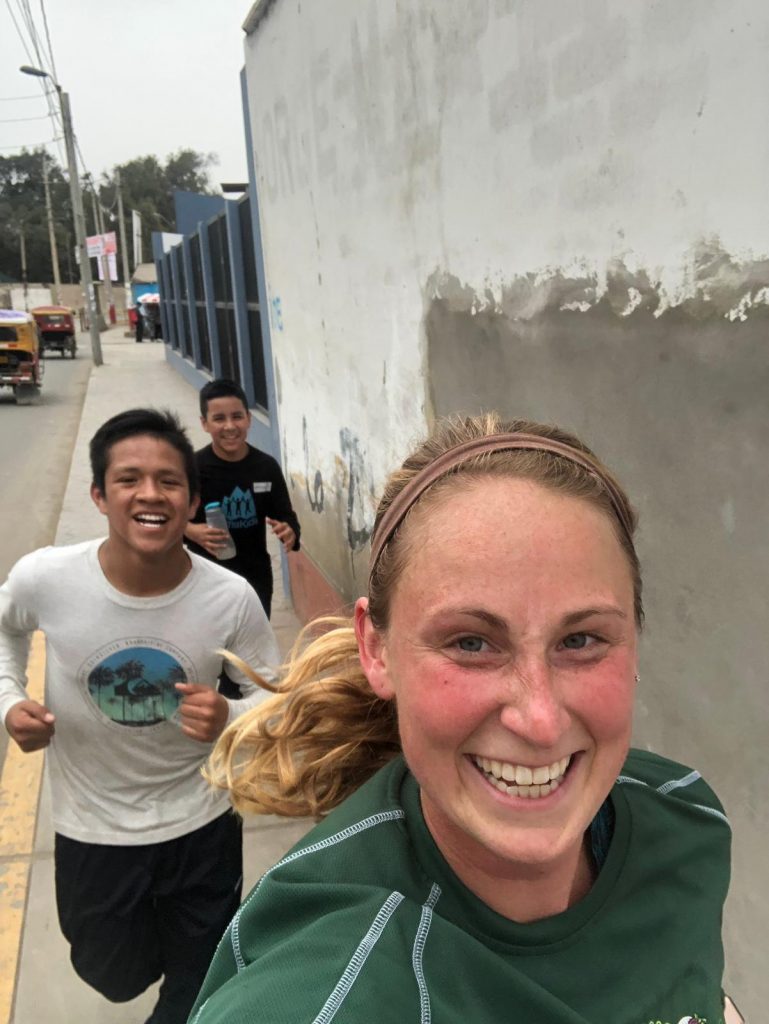 On Race day, with 18 miles down and still 8 to go, exhaustion was starting to set in. Remembering who and what she was running for—the challenging backgrounds the children at Casa overcome, the countless smiles she'd encountered during training and encouragement from the Casa Community in Peru—she pushed on. Though they had never met, during their many conversations over the phone and email, Sarah knew that Laura was considering going out to watch the marathon for the first time. Working her way through the neighborhoods of Chicago with 40,000 of her closest friends and fellow runners it was a long shot that she'd spot Laura on the sidelines.
But, one of the biggest lessons we teach children at Casa Hogar is about not giving up and not losing faith. Laura who had been tracking Sarah during the race realized quickly that she had already passed. Rather than give up and cheer on the plenty of remaining runners who needed it, she packed up her things and started out up the sideline on a race of her own. Just as Sarah was about to turn a corner, she heard her name loud and clear. She turned to see Laura and her daughter jumping up and down with excitement, encouragement and joy. Filled with pride to be a part of the Casa Hogar Family, it was in that moment Sarah knew the finish line was easily in sight.
For Laura and her family, a trip to Casa Hogar means leaving a lasting impression. "I believe that the children who grew up in this orphanage, taught by Fr. Walijeski's mission, that Casa Hogar is where the true, "rich" lessons of daily life are learned."