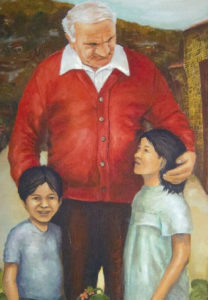 The purpose of the Father Joseph Walijewski Legacy Guild is to:
Promote the priestly zeal of Father Joseph Walijewski
Bring knowledge of his exemplary life to others
Collect and archive information about his life and work
Provide prayer and financial support for the continuation of Father Joe's Legacy
The Father Joseph Walijewski Legacy Guild was started on March 19, 2013 when an edict was hung on the doors of The Cathedral of St. Joseph the Workman. Membership is open to everyone interested in supporting the Guild's mission and purpose.
If you are interested in joining the Father Joseph  Walijewski Legacy Guild, please complete this form with your donation.
Thank you to everyone involved with the Father Joseph Walijewski Legacy Guild and the efforts of educating the public about Father Joe's life. We appreciate your kind support and prayers and look forward to celebrating with you as Father Joe's cause progresses.